Review: Aarn Mountain Magic 44 bodypack
Aarn bodypacks are an innovative, relatively complex but, in my opinion, quite effective and healthy way to carry stuff in the wilderness. I discovered them in 2008 and got for testing an Aarn Peak Aspiration that worked really well. I still have that bodypack and use it every time I go on longer treks or must carry very heavy or bulky loads.
I love the bodypack concept and don't want to give it up. Last year, however, I started to think that I also wanted a smaller and sensibly lighter pack, that would allow me to move as quickly and smoothly as possible in my hikes.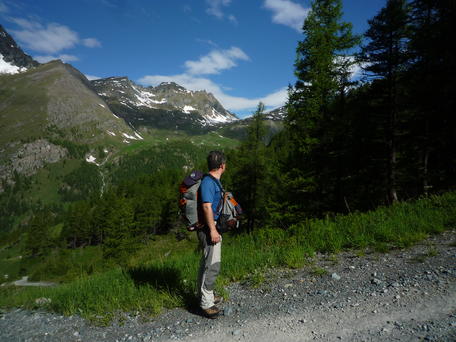 When I first heard about the Aarn Mountain Magic 44 (MM44), I realized that it may just be what I needed. The Mountain Magic comes in two sizes, 44 and 55 liters, weighting 1450 and, respectively 1490 grams. Since I already had a Peak Aspiration, whose capacity is 61 liters, I was only interested in the smaller size: as I said, I wanted something that was still big enough for multi-day hikes, but sensibly smaller than the Peak. The 44 liters version looked a perfect answer, so I asked Aarn if they would be interested in sending one for testing.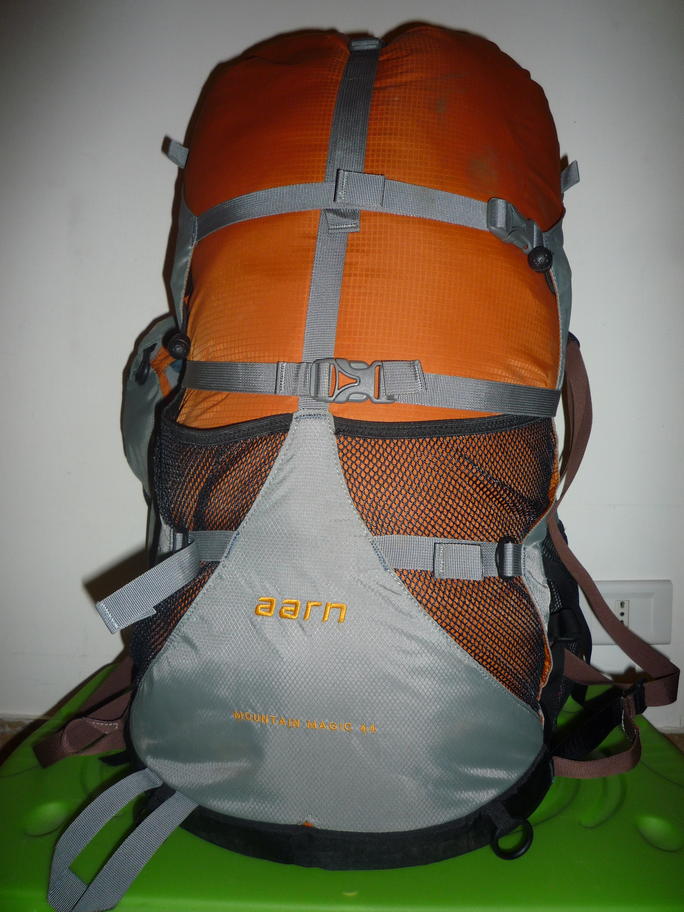 The pack arrived in June 2010. In the last six months, I've used it a lot, for everything from family strolls in Montefeltro hills (1st picture) to long day-hikes in Valle d'Aosta (2nd picture) and a three days solo hike in a very rugged section of the Tuscany Apennines (I'll report about that in a separate article). The only thing I haven't done (yet) with this pack, due to time and work constraints is cross-country skiing or snowshoeing, but I intend to fill this gap as soon as possible.
After all these months, my final opinion about the Mountain Magic is quite similar to the one I got about the Peak: it is a well made, very robust and very comfortable pack that will make you happy, as long as you take the time to know it well, and pay more attention to loading it than you would do with a traditional pack. There are also 2 or 3 differences between the MM and its bigger cousing that are worth noting, but I'll mention them later. First, here is a general description of this bodypack.
Aarn bodypacks are very comfortable because they let you stand and walk upright, without straining your back or limiting your movements. The Mountain Magic 44 makes it quite easy to do it, because about one third of the total capacity is in the two front pockets, that carry 6 liters each.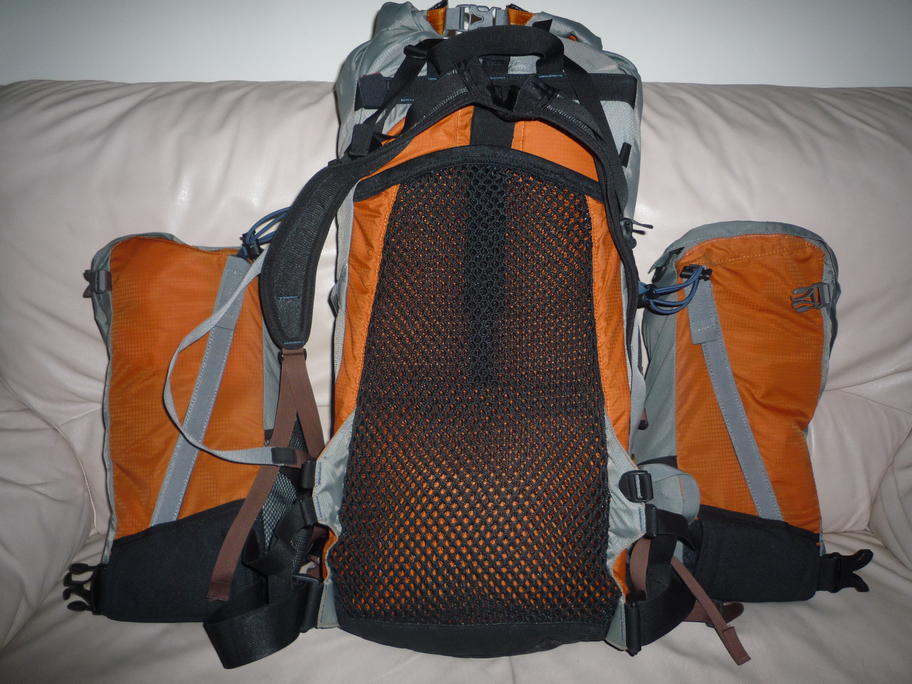 The actual pack measures 32 liters and has no hood or pockets, with the exception of an open, mesh-made one on the bottom-front part. I confess that in six months I have almost never used this external pocket, except one time when I had wet socks that I wanted to dry as much as possible while I was walking. The back of the pack doesn't have much padding (more on this in the review conclusions, but you don't need much of it with a bodypack, and it does keeps the sweat away from your back.
To close the Mountain Magic, you just roll its top and close the corresponding buckle. Three horizontal and one vertical compression strap make the pack very compact. There also are rings and loops to carry ice axes and similar gear.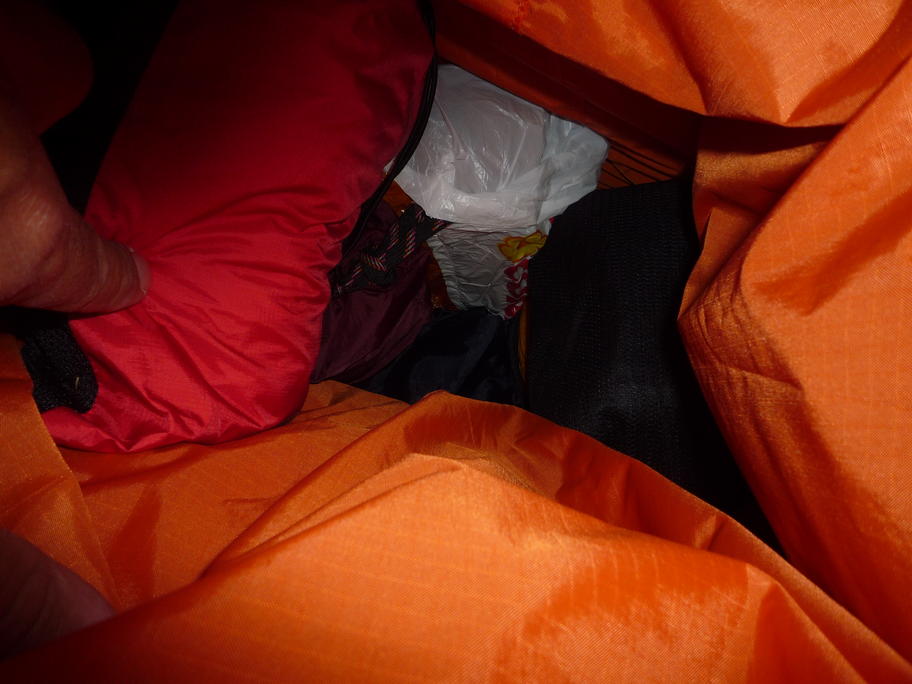 Internally, the Mountain Magic has a waterproof liner that is secured to the edge of the pack with velcro, so you can easily take it out for cleaning or just leave at home if you prefer. If necessary, you could even fold the liner and divide the pack inside in two sections: a wet tent on the top and everything else inside the rolled liner.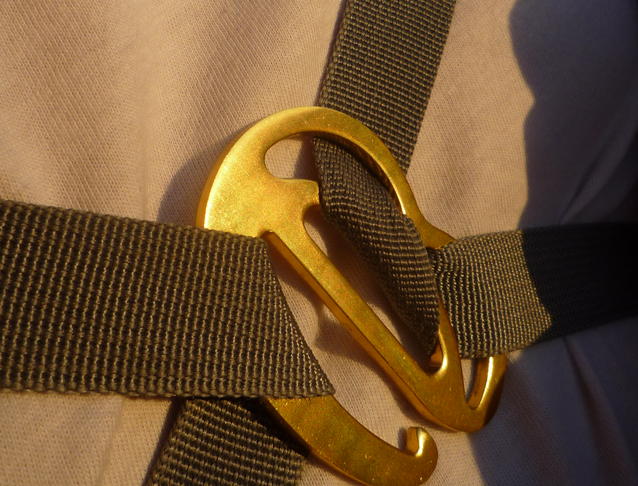 Walking while wearing (that's the right term for a bodypack with balance pockets!) a Mountain Magic 44 is a pleasure, with one limitation that I'll mention in the final part of this review. The shoulder straps are kept in the right position by two extra straps connected by a metal open buckle: if you regulate it properly, it won't bother you at all.
In general, both the pack and the pockets do not limit movements or your view of where you're going to put your feet. As you can see in the picture below, there is also plenty of space to breathe and move between one's chests and the back of the balance pockets.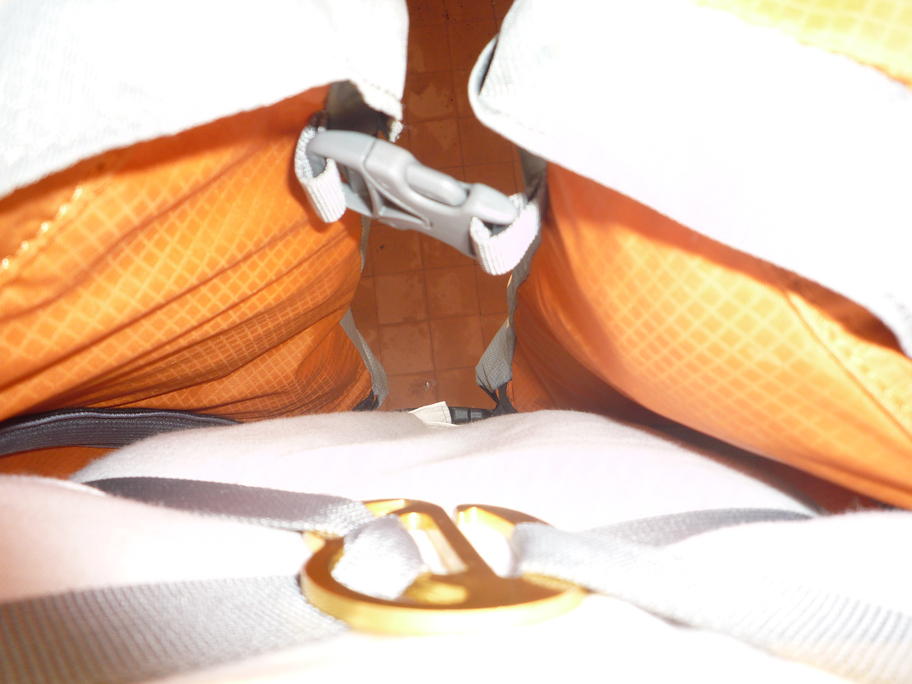 Unlike what happens with bigger Aarn backpacks though, the Mountain Magic may be a problem to wear for busty female backpackers: the buckle that keeps the balance pockets close to each other is directly sewn to them, not to an extendable strap. Therefore, I assume (I repeat: assume) that some female backpackers may have a problem with it.
The Mountain Magic balance pockets deserved their own review, so I talk about them in a separate page. Ditto for the conclusion of this review. I'll put online both pieces by the end of January. In the meantime, please do write in the comments both your own experiences with this pack and / or any specific point or picture you'd like to see in the next articles.